I'm so excited about my buddy Frankie's upcoming nupituals! She's having a crazy carnival themed wedding, outdoor, in the summer. As a bride-y lady (that's what she calls me), she wants me to pick my own dress, but with her color scheme and flexible-ness, I'm having a hard time picking!! The color choices are yellow, turquoise, red, or pink. I have yellow hair, so at the risk of looking like a Rainbow bright character, the yellow dresses are probably out. Red is also not my color, so that's skipped too. So, it boils down to Turquoise or Pink. I'm totally fine with mixing colors (and so is she), so I'm going to include the jewelry options and shoe options...then I'd love some opinions!
Here is a sampling of the Tarina jewelry she's obtained
Here are my favorite group of dresses, thus far
And, the bride is wearing Vivienne Westwood for Melissa shoes...they are SO fabulous I might get a pair too! Here are some options for those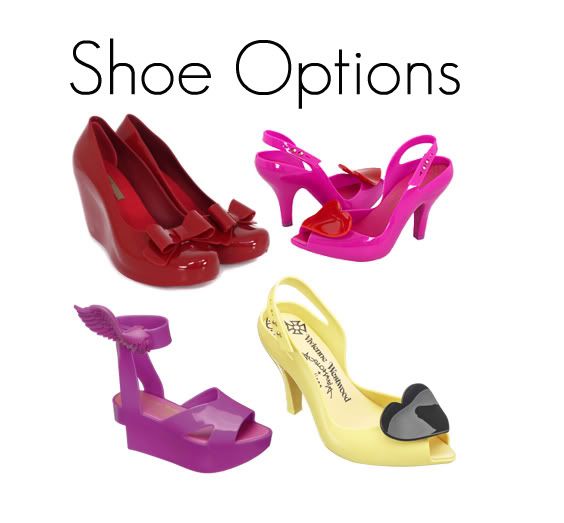 I think my ideal outfit would be the blue Evans dress (third from the right) or the magenta eShakti dress (farthest right) with either the magenta/red heart pump or platform wing sandals. What would you choose?